The exhibition of writings about mother written by famous writers[WMSCOG♥ God the Mother]
|
The World Mission Society Church of God (WMSCOG) changes the whole world where found no love by spreading the love of God the Mother in this last age.  Please come to the Church of God to receive the love of God the Mother and share the given love to others around you.
The exhibition of writings about mother written by famous writers , why audience stopped and cried or smiled
The 'Our Mother' exhibition is being held at the special exhibition of the New Jerusalem Temple of the Church of God in Imae-dong, Bundang-gu, Seongnam-si, Gyeonggi-do from the 27th of last month.
Housewives had formed a long line in the exhibition to appreciate writings, photographs and objects which are related to mothers.
The line didn't move fast even though I waited in line for a long time outside of exhibition and I could know the reason after i entered the exhibition by the help of church official.
Writings of famous writers were displayed on the wall here and there and audience stopped until they read all letters that is why the line didn't move.
After withdrawing idea that these may be conventional stories, I read some writings standing behind audience and i was choked up.
Mother is the place each life begins and everything in childhood
Especially, women might be longing for their mothers at the moment when they met inside of mother who is familiar like a closet.
Some housewives shed hot tears overwhelming with sorriness and yearning after reading heartrending stories which bring back memories of their mothers.
The 'Our Mother' exhibition which is hosted by the World Mission Society Church of God (General pastor Kim Joo-Cheol) and organized by the Melchizedek Publishing Company has run for a long time, attracted 32 thousand audience in 24 cities in Korea.
The exhibition tells mother's love and sacrifice which are very noble and pure with storytelling.
Since the exhibition became famous through word-of-mouth, a lot of local soldiers came and neighboring religious people sometimes visit as well.
The photograph of mother's wrinkled face carrying weight of time more than their years and of mother eating a spoon of rice with frozen Kimchi at the late night break my heart.
After appreciating objects ; sewing box, iron mortar, lunch box etc… , three or four video rooms were waiting for me.
While watching a film made with writing and illustration, I thought it has great educational effect for it gives deep realization on how important mother' role is for a man .
In a word, 'Our Mother' exhibition was a river of love which meanders through rough time and gives a stream silently to children's dry hearts.
There are a lot of religion in our society.
Some religion do peace movement and some help neighbors.
But seeing that a nation can stands upright when mothers stand upright, we cannot be too careful in the education of nurturing a good mother
I hope each religion should make effort to educate children in various ways.
The 'Our Mother' exhibition which is being held until January 11 of next year shows eloquently what churches should do today.
Religion reporter Jeong seong-su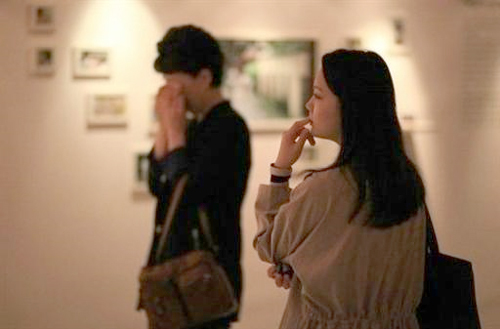 http://www.segye.com/content/html/2014/12/02/20141202003502.html?OutUrl=naver